Denton Community College has been honoured with an inclusion award by the Proud Trust.
The charity works with schools and colleges in the North West of England to ensure that young people who identify as LGBTQ+ are well supported.
Marking the achievement from left to right are Head of Religious Studies and PSHE Liam Spencer, Headteacher Greg Rule and Mayor of Greater Manchester's LGBTQ+ supervisor, Carl Austin-Behan OBE.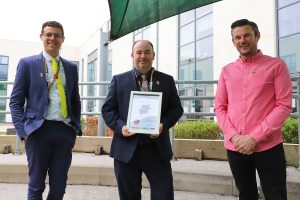 "This award recognises the transformative work we've done regarding LGBTQ+ inclusion at Denton Community College," said Liam.
This is something the students have been asking for and isn't just for those that identify an LGBTQ+, but also those that want to be allies.