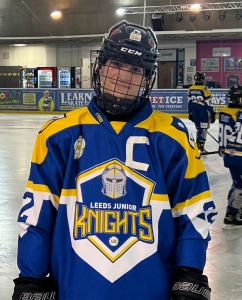 Sebastian has played for Manchester Storm Academy (MSA) since he was 5 years old.
Sebastian played for the North conference last year and was awarded a Most Valuable Player (MVP)
He recently transferred from Manchester Storm Academy to Leeds Junior Knights (LJK) for the under 14's and 16's.
If he succeeds in upcoming trials, he will be playing for England in the England games.
Sebastian's other ice hockey goal will be a tournament game in Riga (Riga cup) in Latvia, run by the UK select team.
And at last but not least, Sebastian would like to qualify for the Winter Youth Olympics Gangwon 2024.
We wish you good luck in everything you do Sebastian and enjoy following your journey.